The model that catapulted the Haines Hunter brand in New Zealand was the V198 which was manufactured between 1974 and 1985.
The V198 came onto the market just as bigger horsepower motors became available from manufacturers in the US. The V198 was almost the only boat on the market that could handle the 175hp Mercury Black Max and the 200hp Evinrude/Johnson outboards released in 1975.
From there, Haines Hunter built 320 V198's and ever since they stopped production of the model in 1985, the model has had an enviable reputation for its exceptional seakeeping and rough water performance.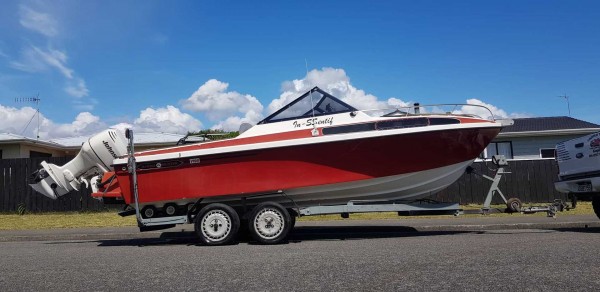 "The V198 was originally a V19; they were manufactured under licence by Fibreglass Molders. The V19 had a turned out chine, so what they did they turned the boat upside down, recreated the topsides and a new deck, retained the underwater shape, and that became the 198 in New Zealand. It was essentially an exclusive model to New Zealand," says Haines Hunter Director, Lionel Sands.
"Over here on the New Zealand side of the ditch, it was just a brilliant boat."
During the early period, the boats were available in various power configurations, sterndrive, single outboard and twin outboards.
"When we took over the moulds in 1980, we upped the ante with upgrades to trim and upholstery. We only did a few with sterndrives; we focused on the outboard-powered models as bigger outboards were becoming more readily available, and it suited our production facility."
Such was the success of the V198 that it helped shaped future Haines Hunter models.
"What became apparent in the early 1980s was that people wanted bigger boats and wanting more cockpit space. In about 1985, we thought that if people wanted a bigger boat, why don't we build a bigger boat, so we took a 198 hull, added a metre onto it, created a whole new set of topsides, new strakes, and that morphed into the 700."
The 700 evolved into the flagship of today's Haines Hunter range, the 725.
"The gene pool goes right back. You can trace the lineage of today's Haines Hunter boats right back to the V198."